Jeroen Kummer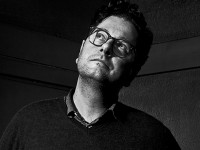 Photo: Martijn Gijsbertsen
Jeroen Kummer (Amsterdam,1969)
Hogeschool voor de Kunsten Utrecht (Graphic Design, 1995)
Founder, creative director at Kummer & Herrman (1998-)
Founder, Y Doc Foundation (2010-)
Member supervisory board, Association of Dutch Designers (2011-)
Kummer & Herrman is an office for graphic design founded in 1998 by Jeroen Kummer and Arthur Herrman. Since the start hey gathered around them a team of professionals who share their love for top-notch projects for a wide range of international clients. Currently K&H are an office of six.
K&H are not attached to a specific medium. They grew up with print, but living in a rapidly changing world, projects often ask for a combination of media. Regardless means or media, they firmly believe that a good design should be based on a clear and strong idea, executed in a consistent manner. The aesthetics should never get in the way of getting this idea across.
Recently Kummer & Herrman have been increasingly involved as designers in the field of photography. Collaborating with photographers, publishers and curators they've been working on books, exhibitions, visual identities, apps and websites.
Over the years K&H gathered a lot of international acclaim for their work. They were nominated and awarded numerously at the Dutch Theater Posters Award, Best Annual Reports, Best Dutch Book Designs, Red Dot, Deutscher Photobuchpreis and the European Design Awards, just to name a few. At the moment they are considered as one of the leading agencies worldwide for photobook design.
Since the start in 2009 Kummer & Herrman have been a creative partner of The Sochi Project. K&H was involved in all the design ranging from the website to all the publications and promotional material and at the same time also functions as a strategic sparring partner.
Kummer & Herrman, Utrecht, the Netherlands
www.facebook.com/kummerherrman
www.kummer-herrman.nl