Grozny: Nine Cities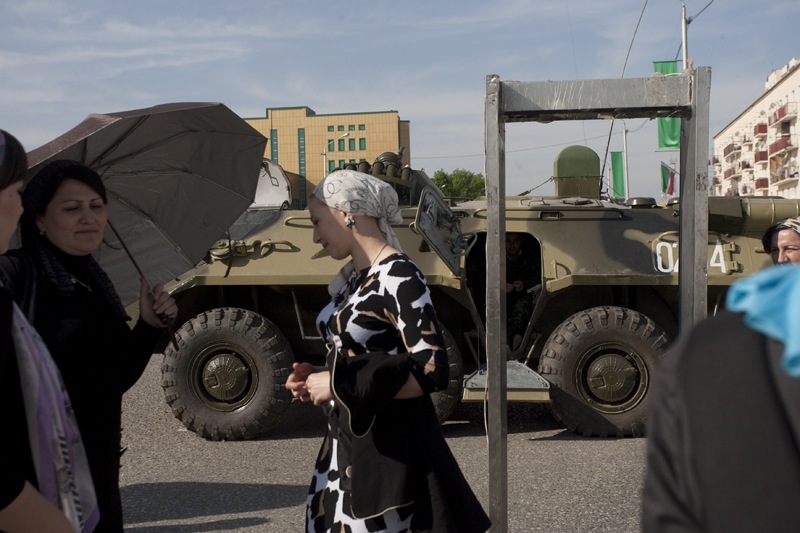 CITY OF NORMALCY (ORDINARY PEOPLE). Women wait to go through a metal detector at one of the entrances to downtown Grozny just before the Victory Day parade on May 9, 2010. Outside the entrance an armoured personal carrier is parked. Grozny, Chechnya, Russia, 2010 , © GROZNY: NINE CITIES / Photography & video by Olga Kravets, Maria Morina, and Oksana Yushko,Ccuration: Anna Shpakova, Music and Multimedia Production
Jose Bautista / KanseiSounds
Grozny, the capital of Chechnya, is a melting pot for changing Caucasus society that is trying to overcome a trauma of two recent wars and find its own way in between traditional Chechen values, Muslim traditions, and globalization.
The body of work itself is inspired by a Thornton Wilder's book Theophilus North, and centers on the idea of nine cities being hidden in one, which inspired the concept to explore specific aspects of the aftermath of two Chechen wars, considering them as"levels" hidden within the capital of Grozny.
The photographers Olga Kravets, Maria Morina und Oksana Yushko saw these 9 different levels: The city that has ceased to exist, a memory of Soviet multicultural Grozny that was bombed and burned down; The city of war, the cause of all the changes. The third city is the city of religion, the next one the city of women, followed by the city of men. Sixth city is the city of the nation's servants, while the seventh is the city of oil. Eigth city is the city of strangers in a mono-ethnic society and the ninth city is the city of ordinary people and their passion for normalcy after 15 years of war.
Recognition & awards
- Shortlisted for Anthropographia Human Rights Through Visual Storytelling Awards, 2012
- Winner in the Multimedia Category of the Alexander Efremov Report Photography Competition, Tyumen, Russia, 2012
- Shortlisted for the Voies Off Prize, 2012
- Winner of the PDN Photo-Annual Contest / multimedia category, 2012
- Nominee for WPO's Moving Image Award / People's Choice, 2011
- Finalists of The Manuel Rivera Ortiz Foundation for International Photography Grant, 2011
- Grand Prize Winner in the Multimedia Category of the Lens Culture International
Exposure Awards, 2011
- Finalists of The Aftermath Project Grant, 2010
Screenings and festivals

- Athens Photo Festival, Greece, 2012
- Les Recontres d'Arles, 2012
- Ojo de Pez Photomeeting Barcelona, 2012
- Tbilisi Photo Festival, 2012
- International Festival of Photography in Lodz, Polland
- First Biennale of Photography of Lima, 2012
- Palm Springs Photo Festival, USA, 2011
- International Bursa Photo Festival, Bursa, Turkey, 2011
- NYPH Provocation Exhibition, 2011, New York, USA
.