Journey to the Center of the Earth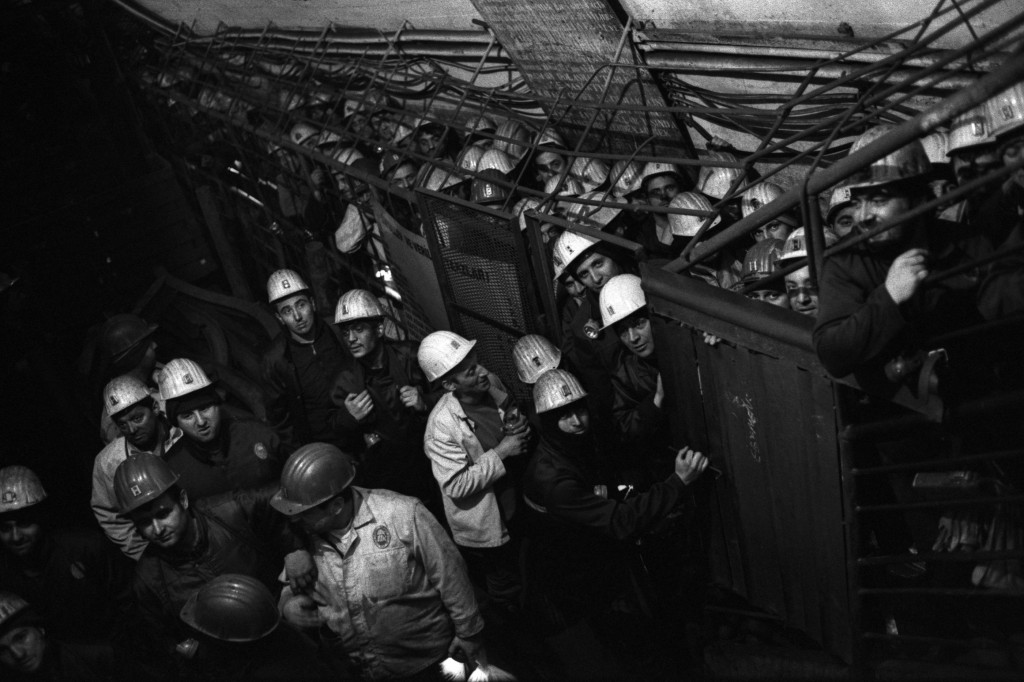 My first time in a coal mine was 350 meters down, below Zonguldak, Turkey. For the photography I was intended to do, I wasn't  allowed to use flash or anything that might cause a spark.  When I arrived,  I learned that a miner had just been killed after a gallery ceiling collapsed.
With some trepidation, and 75 men,  I clambered into the steel, archaic elevator to go down. Moving was difficult, dressed in mining clothes sizes too big,  the traditional miner's helmet strapped to my head. The only light was the lantern on the helmet.  Two Leicas hung around my neck, and a heavy, metal bottle of oxygen banged against me, swinging from a leather belt.
I went down twice, for hours each time.  My translator and I aimed our lanterns at what materialized in front of me and I attempted to capture. After the elevator came the noisy, open-sided steel train, packed between kind, hard-working men on their shift, dressed in the same heavy gear.  Always tired, some even nodded to sleep as we rattled along in the dark. We agonized on foot through tunnels, climbed over rubble, avoided water and low ceilings of black coal supported by heavy beams. Sometimes we could only crawl.  Once, I was pulled onto a conveyor belt, and squatted, gripping the man in front of me as we moved up a steep incline in the dark.
Bulent Bahadir,  his wife, Meryem and their two children, live next door to Bulent's father, himself a retired miner. Their houses overlook the grim specter of the mine below. The neon tower light shines the name, Uzulmez, all night long. These are tightly-knit families,  held together by the particular work and omnipresent danger that is mining.  Bulent asked me to imagine that every day for the next thirty years I would awake, knowing I would be going into the mine. Meryem smiled, ruefully:  " When I see my husband trudging home, I think, "Thank God! He's made it out alive one more time!"