Jewgeni Chaldej – War Photographer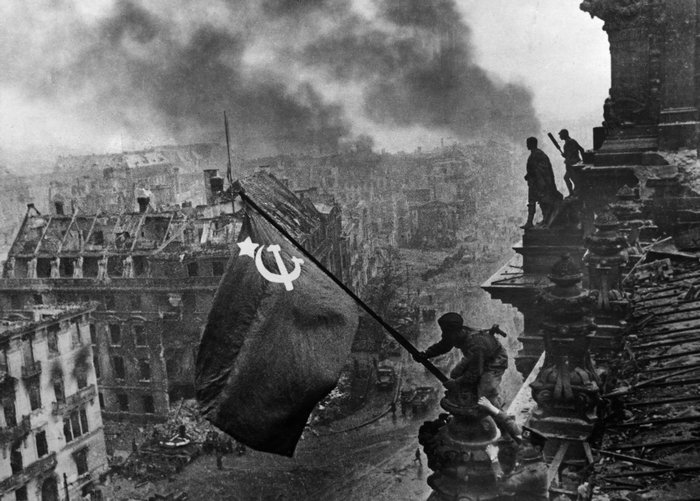 © Jewgeni Chaldej 2nd May 1945, Reichstag Berlin. Image with retouched clock and added smoke clouds.
On 2nd May 1945 around 7 am Jewgeny Chaldej climbed on the roof of the Reichstag with a Leica and took a photo which would become THE image of the victory over the Nazis.
When the war began, everbody talked about the Reichstag. It was at the early morning of 2nd May 1945. I entered the Reichtag building. Terrible noise was all around. A young soldier came towards me. I held a red flag in my hand. He said: 'Lieutnant, dawai, let's climb onto the roof with the flag.' 'That's why I'm here.' Finally, we were on the roof. The Reichstag was burning. He said: 'Let's climb onto the dome.' 'No', I said 'we would be smoked and burned up there.' 'Well, then let's try it here.' We found a long pole. I looked for possibilities of composition. Something of Berlin should be visible. I took a whole film, 36 pictures, and over night I flew to Moscow and the photo was published, immediately.
The photo symbolizes the end of fascism, the end of war, and the end of Hitler. Chaldej also photographed the Potsdam conference in 1945 and one year later the Nuremberg Trials.
By now, photographer Jewgeny Chaldej counts as one of the most important Russian photographers of the 20th century, not only as war photographer. In the 1990s Chaldej was included in the 'pantheon of photography of the 20th century', which was established by photography theorist Klaus Honnef. Next to Chaldej there was only one other Russian photographer included: Alexander Rodchenko. For the importance of his photographic work three aspects are important. Firstly, the extraordinary aspiration of the war topic which daily demanded the risk of life. Secondly, Chaldej's intuition to keep his artist's view even in the most difficult situations. Thirdly, the fact that Chaldej could use his experience of revolutionary Russian film and photo artists.